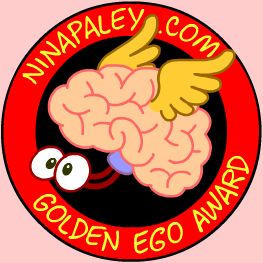 The Prestigious Coveted
Golden Ego Award
Do you have what it takes to win the prestigious, coveted, highly-sought-after, distinguished Golden Ego Award? Only the very BEST may compete for this symbol of excellence.
We don't hand out the prestigious coveted desirable esteemed Golden Ego Award to just anybody. Indeed, the venerable honored celebrated peerless Golden Ego Award honors only the very best, most cutting-edge, groundbreaking praise for ninapaley.com on the web. Unlike other "common" web awards, which claim to recognize web design and content, the transcendent famed singular Golden Ego Award is presented exclusively for the most creative, outstanding, positive feedback about things on this website.
Think you've got what it takes? Take our rigorous self-screening pre-application test:
1. Does your website have dazzling content and cutting edge design?
2. Is it stimulating, highly functional, media-rich, multi-browser compatible, fast-loading, and correctly spelled?
3. Do you have some succulent praise for NinaPaley.com?
If you answered "yes" to question number 3, you may apply for the eminent illustrious renowned nonpareil puissant Golden Ego Award -- if you dare!
Application Form
| | |
| --- | --- |
| Your Name: | |
| Your email address: | |
| URL of your website: | http:// |
| Your complements for NinaPaley.com (use extra space as needed; no word limit): | |
| Tell us why you deserve the distinguished coveted prestigious Golden Ego Award: | |
Note: Winner(s) must display the esteemed singular foremost Golden Ego Awards on their respective website(s). Winning praise will be displayed on NinaPaley.com.
Submit your application by email to nina_paley@yahoo.com
Our distinguished panel of judges will review your entry and contact you someday if you win.

Why This Awards Program Exists:
Recently, I ventured forth into the World Wide Web, in search of website awards for ninapaley.com. There must be ten thousand awards out there, and they're all "prestigious," "coveted," and "only for the VERY BEST websites." They establish rigorous criteria, such as "no flashing text! we hate that!" and "your site can't just be links to other sites!".
Most awards sites are simply seeking links, and therefore more hits ("clickthrough"s from the awards they give to pretty much everyone.)
Others exist to enhance the egos of their respective givers, presumably to compensate for inadequacy (those that can, do; those that can't, have awards programs). These sites take themselves very seriously, yet are often poorly designed. One example is the "Chicago Internet Review" awards site (with an aol.com address - that should say something right there - of course the whole thing might be a parody), which snottily demands "perfection," even while it's required "questions" don't display in the browser in such a way that they can be answered.
Then there's the "Webby Awards," which charge $75 per URL submission. Oh yes, there are also lots of awards FOR awards, which the awards sites proudly display, along with links back to the awards-for-awards sites....
After slogging through this morass for 2 days (I had the flu and had nothing better to do with my time), I realized ten thousand AND ONE can play at this game. Hence, the Golden Ego Award, exemplifying all that is great about web awards: the shameless solicitation of links, combined with the equally shameless inflation of ego.
At least we haven't sunk to the level of requiring PAYMENT in return for abuse. Yet.